HOW CAN NOTIFYALL WORK FOR YOU?
text marketing
group messaging
unlimited group size!
unlimited messages!
NOTIFYall Group Text Messaging delivers your text message to an unlimited number of cell phones, tablets, pagers or email on any service, anywhere, anytime! NOTIFYall is web-based with a user-friendly platform which makes sending your messages a snap.
Subscribers to your text group can easily sign up for message notifications by simply texting your Group Code Word to your exclusive TEXT phone number. Whether you are sending messages to internal company groups or managing Text marketing campaigns, it is easy and affordable with NOTIFYall.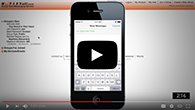 CLICK TO SEND A TEST MESSAGE